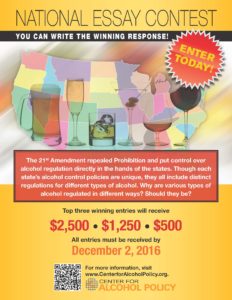 The Center for Alcohol Policy is now accepting entries for its Ninth Annual Essay Contest. The topic for this year's contest is:
The 21st Amendment repealed Prohibition and put control over alcohol regulation directly in the hands of the states. Though each state's alcohol control policies are unique, they all include distinct regulations for different types of alcohol. Why are various types of alcohol regulated in different ways? Should they be?
"The Center Essay Contest is intended to foster debate, analysis and examination of state alcohol regulation and its implications for citizens across the United States," said Center for Alcohol Policy Advisory Council member and Samford University Cumberland School of Law Professor Brannon Denning. "We can learn a lot from our nation's history with alcohol, especially looking at the societal problems that led to national Prohibition and the public policy initiatives that were put in place following the passage of the 21st Amendment, which repealed Prohibition and began today's system of state-based alcohol regulation."
The contest is open to all persons who are over the age of 18 as of December 2016. Students, academics, practicing attorneys, policymakers and members of the general public are encouraged to submit essays. The deadline for entries is December 2, 2016.