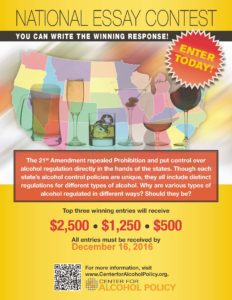 The deadline to enter the Center for Alcohol Policy's Ninth Annual Essay Contest has been extended. The Center will accept entries through December 16, 2016. The topic for this year's contest is:
The 21st Amendment repealed Prohibition and put control over alcohol regulation directly in the hands of the states. Though each state's alcohol control policies are unique, they all include distinct regulations for different types of alcohol. Why are various types of alcohol regulated in different ways? Should they be?
"The Center's essay contest is intended to foster debate, analysis and examination of state alcohol regulation and its implications for citizens across the United States," said Center for Alcohol Policy Advisory Council member and Samford University Cumberland School of Law Professor Brannon Denning.