Executive Director
Kelly Roberson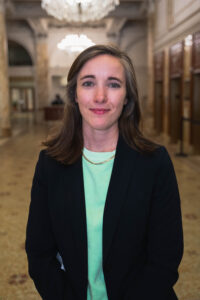 In May 2020, the Center for Alcohol Policy named Kelly Roberson as executive director. Roberson brings to the Center her years of experience in policy and marketing from the public and private sectors.
Prior to her work with the Center, Roberson served as policy advisor and communications director in the U.S. House of Representatives where she led a varied portfolio of issues on behalf of the Western Caucus. She cultivated a strong understanding of regulated industries and worked with several members of Congress and their staffs on issues including energy and the environment, land use and resources, water and Native American affairs.
Most recently, Roberson pioneered the role of National Director of Digital Communications for one of the leading bicycle retailers on the east coast. During this time, her passion for building strategic partnerships and relationships combined with her overhaul of the company's digital presence paved the way for exponential growth in both sales and brand awareness.
A native of Scottsdale, Arizona, Roberson graduated Summa Cum Laude from the Barrett Honors College at Arizona State University with a degree in Spanish Linguistics and International Business and Management.