Alcohol Law & Policy Conference
We are excited to bring the 15th Annual Alcohol Law & Policy Conference to Nashville, TN this coming August 29-31! Please register below.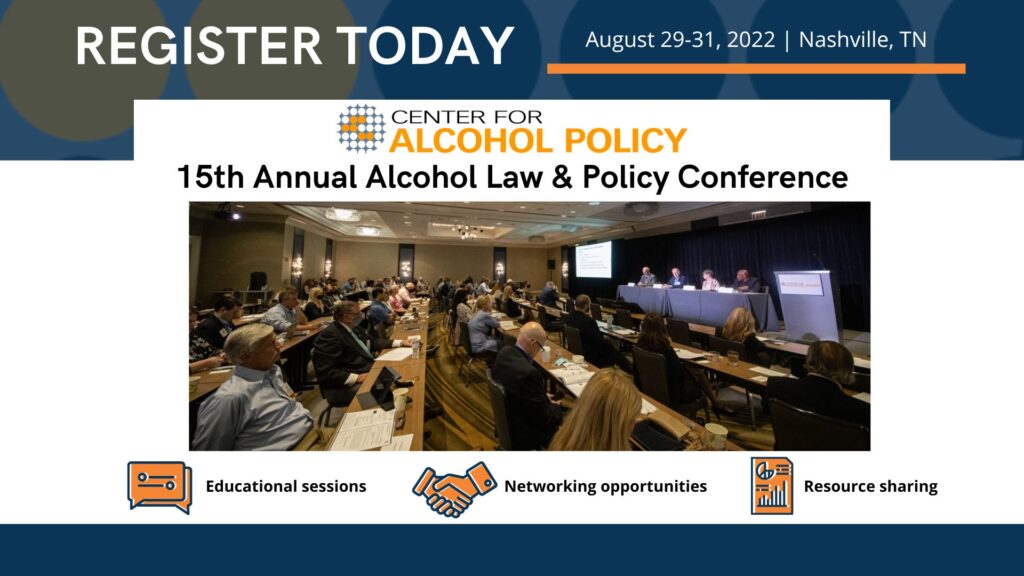 Conference Background:
Each year the Center brings together some of the best minds in the country – including state alcohol regulators, public health leaders, state attorneys general, state legislators, educators and industry members – to discuss and debate current alcohol issues and challenges. The conference has become the leading national forum for alcohol policy education and networking.
Attendees take advantage of this annual forum to learn about a wide range of topics, including 21st Amendment litigation, trade practice enforcement and public health aspects of alcohol regulation.
Hotel Accommodations:
Location:
Sheraton Grand Nashville Downtown
623 Union Street
Nashville, TN 37219
Room rate:
$219/night
***Please contact us for Government Rate, if needed
Sessions You Can Expect:
As in past years, we're looking forward to bringing you educational content that spans a wide variety of topics and perspectives.
Take a look at some of the sessions we have up our sleeve as we get ready to head down to Music City.
Alcohol Regulatory Changes and Traffic Safety
The Crossroads of Alcohol and Blues in the 20th Century
21st Amendment and Legal Update
What's Top of Mind for Public Health?
Alcohol Regulation: Sharing Resources and Best Practices
Featured Speakers Include:
The Honorable Chris Carr, Attorney General of Georgia
Representative from the US Department of Tax and Trade Bureau
Katie Rainge-Briggs, National Museum of African American Music
Brian Fitzpatrick, Vanderbilt University Law School
Patrick Lynch, Former Attorney General of Rhode Island
J.T. Griffin, Griffin Strategies
Pat Gagliardi, Michigan Liquor Control Commission
Pam Erickson, Public Action Management
Brannon Denning, Samford University Cumberland School of Law
Patrick Maroney, Maroney Consulting Services
Becky Schlauch, Montana Alcoholic Beverages Control Division
Jerry Oliver, Former Director of Arizona Liquor Licenses and Control, former police chief
John Bodnovich, American Beverage Licensees
Lisa Hutcheson, Mental Health America of Indiana
Russell Thomas, Tennessee Alcoholic Beverage Commission
Jim Hall, Former Chair of the National Transportation Safety Board
Maria Everett, Virginia ABC
Don McGehee, Michigan Attorney General's Office, Alcohol and Gambling Enforcement Division
Raimee Eck, Maryland Public Health Association
Paul Pisano, National Beer Wholesalers Association
More About Our Location:
The hotel is located right in the heart of Music City, just footsteps from some of the most popular attractions. You can take a stroll down Broadway and experience the best of Nashville's music scene, from historic "honky tonks" to new restaurants and bars opened by some of the biggest names in music. Or take some time to experience Nashville's history – including the Country Music Hall of Fame, National Museum of African American Music, or the The Ryman – often considered the "Mother Church of Country Music." The Gulch and 12 South also host some of Nashville's most famous murals and shops that are a must see. Finally, Nashville's food scene goes beyond just hot chicken, boasting all types of exceptional cuisine on every street corner.
Continuing Legal Education for the 2022 ALPC in Nashville
As always, our staff will seek appropriate CLE course accreditation for the 2022 ALPC.
Below are reminders regarding some state exceptions with regard to CLE credits.
State exceptions:
Arizona – The State Bar of Arizona does not approve or accredit CLE providers or individual programs. Therefore, the Center for Alcohol Policy is not required to submit any information regarding the seminar, or subsequent attendance lists. The State Bar does not retain or track CLE records for members and registrants other than CLE taken through the State Bar. For CLE credits from this course, it is the responsibility of each member/registrant to keep documentation such as the event/seminar/training material and the certificates of attendance to support the hours and events claimed on their annual affidavit.
Maryland – Maryland does not currently require minimum continuing legal education for attorneys registered in the state, and therefore does not accredit courses.
Massachusetts – Massachusetts is one of the few states where continuing legal education (CLE) for attorneys is not mandatory, except for the Practicing with Professionalism course for new attorneys admitted to the bar after September 2013.
New York – According to New York's Approved Jurisdiction policy, New York attorneys may count towards their New York CLE requirement credit earned through participation in out-of-state courses accredited by a New York Approved Jurisdiction. The policy applies to both traditional live classroom-format and nontraditional-format courses (online, DVD, teleconference, etc.). Traditional live classroom-format courses are out-of-state if they take place outside of New York State. Nontraditional-format courses are out-of-state if the sponsor organization is headquartered outside of New York State. This course will likely be approved in several New York approved jurisdictions, and therefore, so long as certain requirements are satisfied, NY attorneys may apply CLE credit earned for the completion of this course to their NY CLE requirement.
Rhode Island – Cannot apply for single course accreditation.
Washington, D.C. – D.C. has no mandatory continuing legal education requirements at this time, which means they have no CLE accreditation body and do not accredit courses.
---
What They're Saying
As we prepared for our virtual alcohol law and policy conference in 2020, we touched base with some familiar voices in the space and checked in with them about what's moving in their world and what they were looking forward to with our conference.
---
8/27/2020 – This week on #CAPChats, we caught up with Susan Dworak, CEO of Real Identities, who is leading a panel during this year's Alcohol Law and Policy Conference on the future and renewed challenges of fake IDs. Listen below and get a sneak peek into what you can expect to learn during this informative session.
---
8/20/2020 – Listen below to hear from Carrie Christofes, about what's moving in her world at the National Liquor Law Enforcement Association (NLLEA).
---
8/13/2020 – Listen here to Neal Insley, Senior Vice President and General Council at the National Alcohol Beverage Control Association (NABCA).