Law & Policy Conference
Registration Now Open!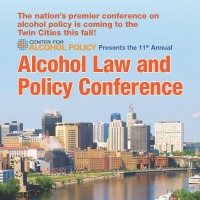 The Center for Alcohol Policy's 11th Annual Alcohol Law and Policy Conference will be held Oct. 9 – 11, 2018, in St. Paul, Minn., at The Saint Paul Hotel. Register online now or by mailing in the completed registration form with payment information. (You must have Adobe Acrobat Reader or Full to complete the fillable form on a computer, you can alternatively print the document and manually fill out the form.)
View the conference brochure and draft agenda.
Plan now to be part of the event. It will bring together a wide range of experts in the field of alcohol law – including attorneys, current and former alcohol regulators, academic thought leaders, public health advocates, state legislators and other experts – to discuss and debate current alcohol laws and challenges.
Government and non-profit employees receive special discounted registration rates:
| | | |
| --- | --- | --- |
| | Before October 3 | After October 3 |
| Government/Non-Profit | $199 | $299 |
| Full Registrants | $699 | $799 |
Registration materials will be available beginning Tuesday, October 9 at 4:00p.m. at The Saint Paul Hotel.
Please email info@centerforalcoholpolicy.org for registration cancellation requests. Full refunds (less a $50 administrative fee) will be issued for cancellations made before October 3, 2018.
No refunds will be made after October 3, 2018.
Educational Sessions
See below for session descriptions and be sure to check out the draft agenda.
Brave New World of Age Verification
As new technologies and consumer patterns evolve, age verification for purchasing alcohol and other regulated products becomes more challenging. This panel will explore the laws in this area; challenges with "fraudulent ID's;" new challenges created by e-commerce and how to meet these challenges; and state efforts to enforce age verification laws.
State of the States
Legislators from around the country will discuss some of the most recent debates in alcohol policy in their state capitols. From balancing economic development and public health to adapting existing laws to an evolving industry, this panel will explore the balance of goals, priorities and stakeholders through these hot topic debates.
High-Risk Drinking on College Campuses
Despite progress in fighting underage drinking and drunk driving, dangerous drinking patterns persist on college campuses. This panel will examine the status of the college drinking culture today, troubling trends on campus, laws around this and what can be done to change it.
(Happy) Hoppy Trails
Alcohol tourism is popular in many states, and more states and regions wish to emulate it. Wine trails, beer trails, festivals, and expansion of tap and tasting rooms abound throughout the United States. This panel will explore both opportunities and challenges presented by this trend in alcohol consumption.
Toward Marijuana Control
As the nation comes to grips with the movement to legalize marijuana, some have urged regulating marijuana like alcohol. While these are two very different products and commerce models, there are time-tested principles of alcohol regulation that may provide guidance for lawmakers and regulators facing the advent of legalized marijuana.
Can I (Anti)trust You?
The U.S. Department of Justice conducted a review of the largest alcohol supplier merger in history and the terms of its consent order will govern the beer industry for the next eight years.   This panel will discuss the federal antitrust issues in the deal, outstanding issues as well as state antitrust issues impacting alcohol regulation.
Another Date with the Supremes?
The last time the United States Supreme Court considered a 21st Amendment issue was in 2005. Two-thirds of the Court has changed since then. There are numerous cases at the circuit court level that may end up before the Supreme Court. This panel will discuss current challenges to alcohol laws across the country and the future treatment of alcohol law litigation.
Trade Practices Update
At the time of this writing, the TTB notes that they have 57 active trade practice cases. States have brought numerous cases against industry members. Thousands of new alcohol industry participants are joining this regulated industry often without an understanding of the laws of the industry. This panel will explore some of the recent challenges.
Hotel Accommodations
Reserve your room at The Saint Paul Hotel online or call 800-292-9292 and indicate that you are attending the Center for Alcohol Policy's Alcohol Law and Policy Conference.
Book by September 18 to secure the negotiated single/double group rate of $169 per night plus tax, or the $149 per night plus tax government rate. To book the single/double rate online, select your arrival and departure dates and enter 181009CAP as the group rate, or ask for the "Center for Alcohol Policy Conference Standard" when you call. To book the government rate online, select your arrival and departure dates an enter 181009APG as the group code, or ask for the "Center for Alcohol Policy Government" when you call. Once the room block is sold, rooms and rates cannot be guaranteed. Make your reservation today!
CLE Credits
The Center works with state continuing legal education (CLE) boards to provide attending attorneys with CLE credits. The Center for Alcohol Policy is seeking appropriate CLE accreditation for the 2018 Alcohol Law and Policy Conference. In previous years, more than 30 states have approved CLE accreditation of the course.
2017 Alcohol Law and Policy Conference
Check out some of the highlights from last year's 10th Annual Alcohol Law and Policy Conference held Sept. 6-8, 2017, in Chicago. The conference was attended by a record-setting crowd with representation from 34 states and Washington, D.C.
For more information about the Alcohol Law and Policy Conference or other CAP events and programs, contact the Center for Alcohol Policy at (703) 519-3090 or info@centerforalcoholpolicy.org.