Law & Policy Conference
Thanks for joining us!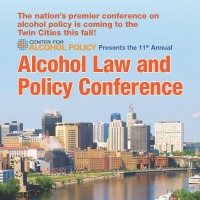 The Center for Alcohol Policy's 11th Annual Alcohol Law and Policy Conference took place Oct. 9 – 11, 2018, in St. Paul, Minn.
The 2018 educational sessions included:
Brave New World of Age Verification: This panel explored fraudulent ID's, e-commerce and current challenges with age verification and underage drinking.
High-Risk Drinking on College Campuses: Can we make a difference?
Another Date with the Supremes?: Is there one, or more, alcohol-related court challenges poised for the Supremes?
Toward Marijuana Control: Can lessons from Toward Liquor Control help guide marijuana regulators?
State of the States: Leading state legislators explored alcohol regulatory developments in the states.
(Happy) Hoppy Trails: Explored challenges and opportunities with alcohol tourism – trails, festivals, tasting rooms and more.
Can I (Anti)trust You?: This panel discussed the federal antitrust issues in the review of the largest alcohol supplier merger in history, outstanding issues as well as state antitrust issues impacting alcohol regulation.
Trade Practices Update: This breakout out session explored federal and state regulators' increased focus on trade practice enforcement.
You can find the full 2018 brochure here.
For more information about the Alcohol Law and Policy Conference or other CAP events and programs, contact the Center for Alcohol Policy at (703) 519-3090 or info@centerforalcoholpolicy.org.