Alcohol Law & Policy Conference

We'd like to thank everyone who joined us virtually in September for our 13th Annual Alcohol Law and Policy Conference! The conference consisted of a series of seminars scheduled over the course of four consecutive Wednesdays in September of 2020. In an effort to accommodate varied schedules and time zones, all sessions were made available on-demand to conference registrants after the live seminars concluded.
Our virtual event enjoyed attendance from over 200 regulators, public health advocates, industry representatives, attorneys and legislators, with representation from nearly all 50 states. Our audience heard from many distinguished presenters and experts on a range of topics including:
Covid-19 and its impact on alcohol regulation
The Twenty-First Amendment and its future in the courts
A look at the role of state epidemiologists in alcohol policy
Challenges to Trade Practice
Alcohol in the world of technology
The Center is a "go to" resource for up-to-date information on the important impacts of alcohol regulation, and its annual Alcohol Law and Policy Conference highlights its important role in drawing out conversations of divergent interests. We thank you again for attending what was an exceptional event, and we hope to see you next year in Chicago, August 29-31, 2021!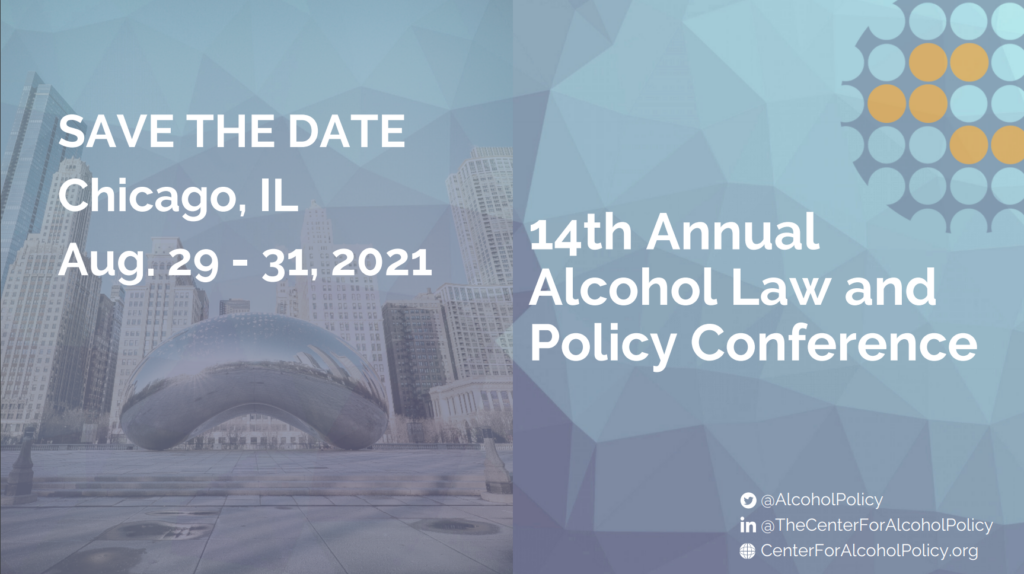 ---
Program Materials and Resources
If you attended our Alcohol Law and Policy Conference series over the month of September, we have created a page on our website that houses all program and session materials for the conference and much more. To gain access, please contact us for the password.
Continued Legal Education (CLE) Credits
Our staff is seeking appropriate CLE course accreditation for our 13th Annual Alcohol Law and Policy Conference. Please see below for an update on state applications as of 11/5/2020. If you do not see your state, and you registered to receive CLE credits, please contact us.
What They're Saying
As we prepared for our first ever virtual alcohol law and policy conference, we touched base with some familiar voices in the space and checked in with them about what's moving in their world and what they were looking forward to for this year's conference.
---
8/27/2020 – This week on #CAPChats, we caught up with Susan Dworak, CEO of Real Identities, who is leading a panel during this year's Alcohol Law and Policy Conference on the future and renewed challenges of fake IDs. Listen below and get a sneak peek into what you can expect to learn during this informative session.
---
8/20/2020 – Listen below to hear from Carrie Christofes, about what's moving in her world at the National Liquor Law Enforcement Association (NLLEA).
---
8/13/2020 – Listen here to Neal Insley, Senior Vice President and General Council at the National Alcohol Beverage Control Association (NABCA).