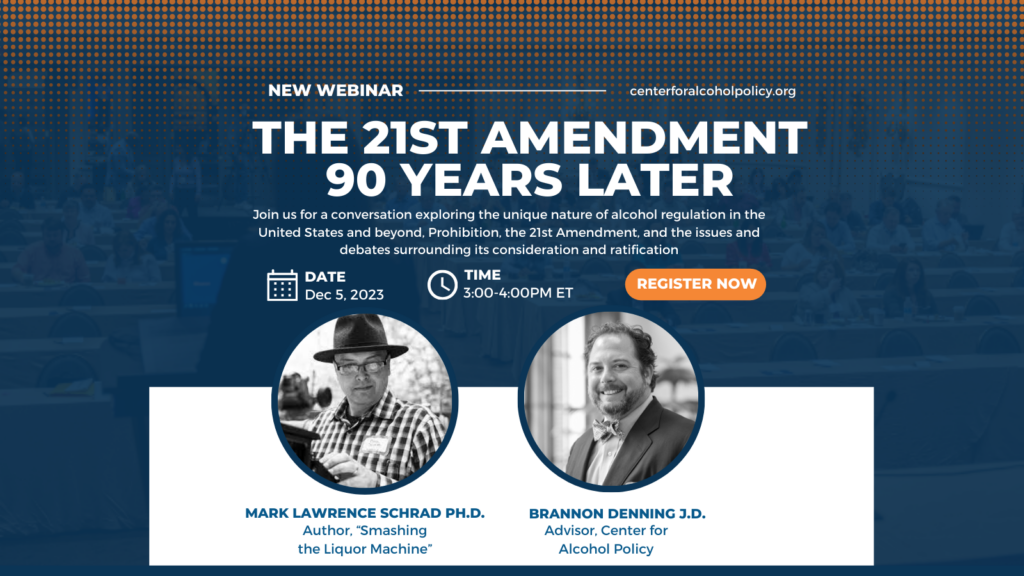 Register today for this fascinating webinar where our panelists will dive into a conversation about the global history of Prohibition and the 21st Amendment!
90 years ago on December 5, 1933, the 21st Amendment was ratified by the states repealing the 18th Amendment and giving way to the creation of our current state-based alcohol regulatory scheme.
This succinct amendment ended the nationwide prohibition of alcohol and gave states the authority to regulate alcohol how their citizens best see fit.
As we mark the anniversary of passage of the 21st Amendment, join us for a conversation between Mark Schrad Ph.D., author of Smashing the Liquor Machine and Professor of Political Science at Villanova University and Brannon Denning, Center for Alcohol Policy Advisor and Associate Dean and Professor of Law at Samford University's Cumberland School of Law.
This webinar will explore the unique nature of alcohol regulation in the United States and beyond, Prohibition, the 21st Amendment and dive into some of the issues and debates surrounding its consideration and ratification.
These professors will discuss Professor Schrad's fascinating book as well as another book which is celebrating its 90th Anniversary, Toward Liquor Control.