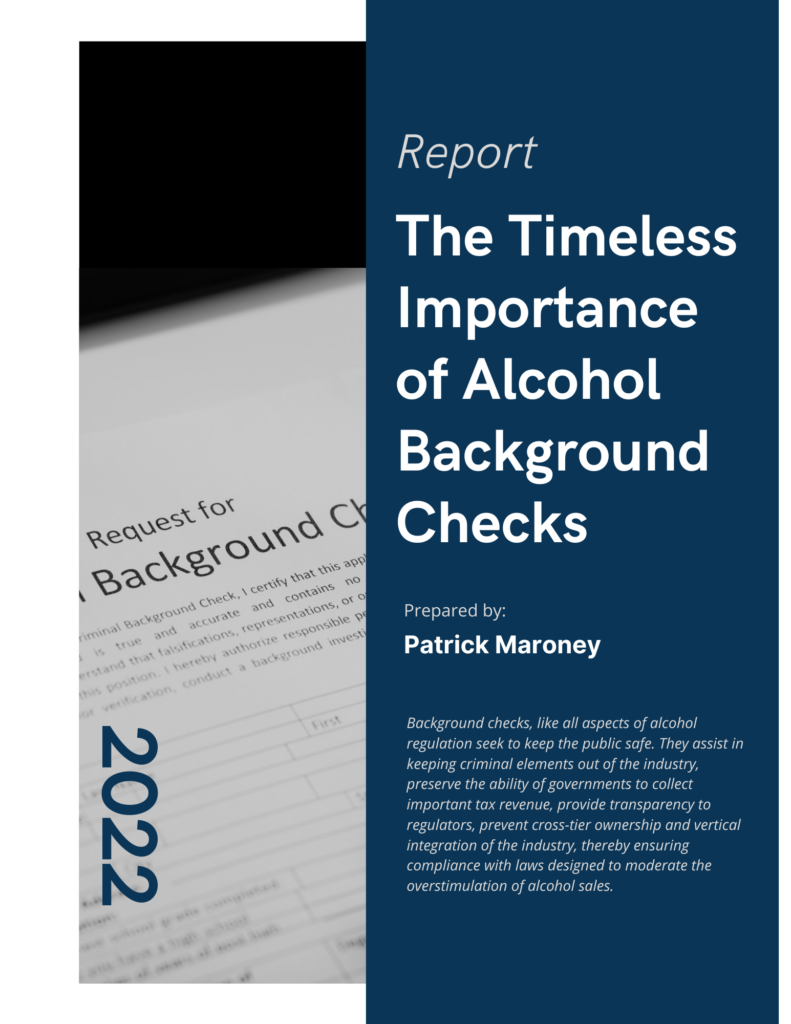 Today the Center for Alcohol Policy released a new whitepaper outlining the timeless need for background checks in the alcohol industry. The report was commissioned by the Center and authored by Patrick Maroney, President of Maroney Consulting Services, LLC and former Director of the Colorado Department of Revenue's Liquor Enforcement Division.
"The practice of conducting background checks on liquor license applications is a must in order to ensure an orderly and safe marketplace.  Keeping unscrupulous actors out of the alcohol industry is an important role of government entities tasked with regulating alcohol production, distribution and sales," said report author Patrick Maroney.
Maroney provides an overview of the origin of background checks in the U.S. beginning in the early 20th Century and their application to the alcohol industry as the nation emerged from Prohibition. Citing Toward Liquor Control, Maroney points to background checks as an essential component in achieving the goal of safe and responsible consumption through the elimination of crime.
Maroney's report also explores the relevance of background checks to today's alcohol regulatory environment. Objectives of background checks include:
Keeping criminal elements out of the industry
Preserving the government's ability to collect tax revenue
Preventing cross-tier ownership and vertical integration of the industry
Ensuring compliance with laws designed to moderate the overstimulation of alcohol sales
"Conducting background checks is a valuable and important safeguard across many industries and the alcohol industry, in particular, is no exception to that rule," said Jerry Oliver, Advisory Council for the Center for Alcohol Policy. Oliver is also the former Detroit Chief of Police and Director of the Arizona Department of Liquor License and Control. "As we know, alcohol is no ordinary commodity, and as such, those involved in the industry ought to undergo rigorous scrutiny to ensure public health and safety are protected and criminal elements are kept out of the marketplace."
The Center for Alcohol Policy looks forward to continuing to be a resource and to educate policymakers, regulators, and the public about alcohol, its uniqueness and its regulation.