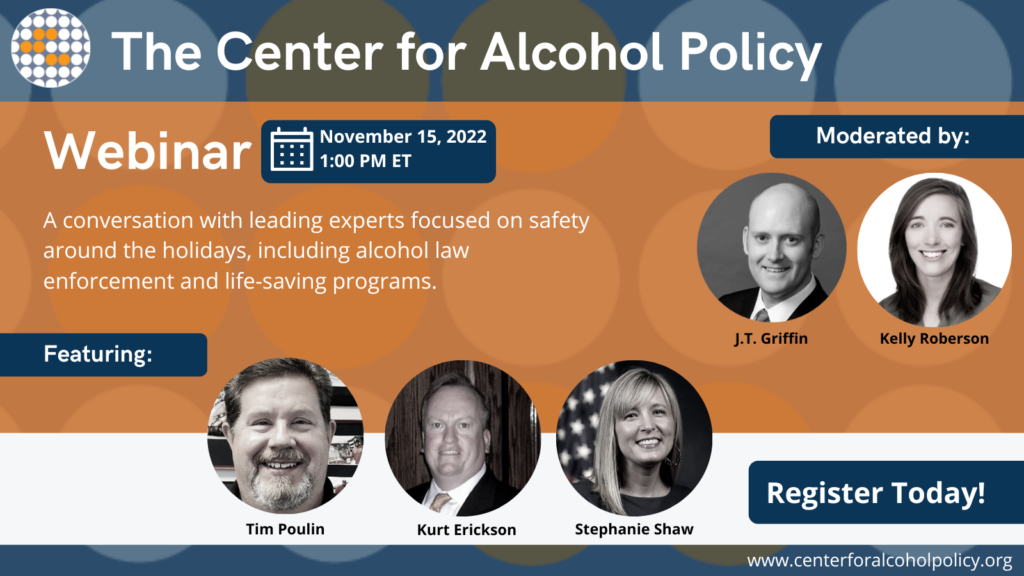 This year the Center for Alcohol Policy is pleased to announce our Holiday Safety Campaign!
Thanksgiving through New Year's is a time when many gather with friends and family to celebrate the holiday season. Many celebrations can involve alcohol, so the Center wanted to highlight some of the work we have done over the year as well as share some of the great work of our partners.
To kick off the 2022 campaign, we will host a webinar on:
November 15th at 1:00PM Eastern
Register HERE
We're going to look both upstream and downstream at solutions for safety during, and beyond, the holiday season and have an exciting lineup of speakers including:
Stephanie Shaw, NTSB, Office of Safety Recommendations and Communications safe systems The NTSB has made eliminating drunk driving a part of its annual Most Wanted List of safety improvements for some time. Stephanie will talk about the National Transportation Safety Board's recommendations on Place of Last Drink laws and how these fit into the Safe Systems approach to traffic safety.
Kurt Erickson, President of the Washington Regional Alcohol Program (WRAP)
Each year WRAP sponsors the award-winning Sober Ride program in the Washington Metro Area. The program is called one of the nation's most successful free safe ride programs for would-be impaired drivers. Since 1991, WRAP has provided 80,047 safe rides home. Currently, SoberRide®?operates during the December/January holiday season, St. Patrick's Day, Cinco de Mayo, Independence Day and Halloween.
Tim Poulin, Deputy Director, Maine's Bureau of Alcoholic Beverages and Lottery Operations
In August, the Center hosted a Law Enforcement Webinar to highlight the challenges facing enforcement and how that impacts alcohol sales and regulations. Tim will share his experiences in Maine.
The Webinar is hosted by Kelly Roberson, Executive Director of the Center for Alcohol Policy, and moderated by J.T. Griffin, Principal at Griffin Strategies.