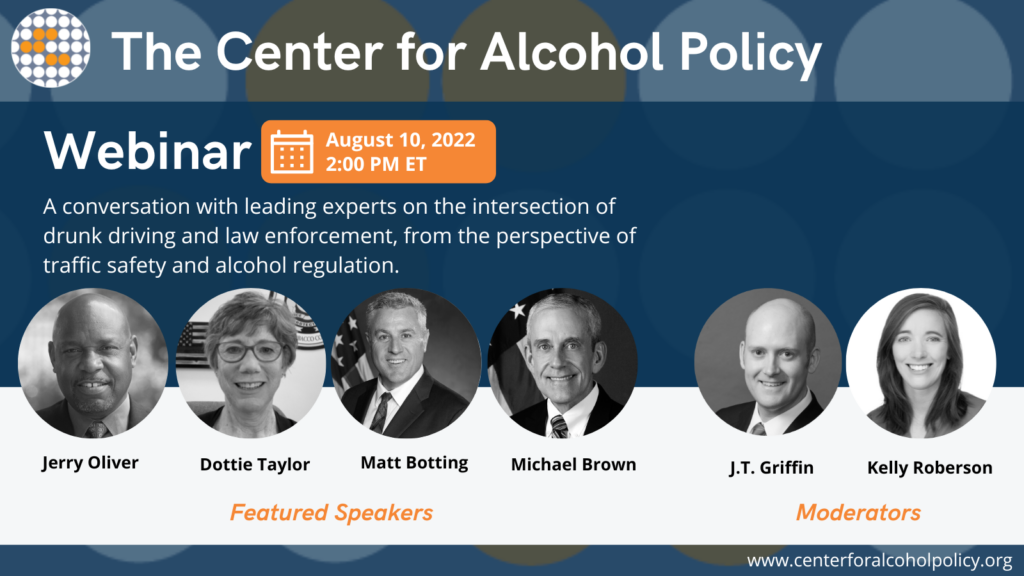 Law enforcement has faced many challenges over the last few years that have had a major impact on issues important to the Center for Alcohol Policy. This includes issues of public safety, enforcement of alcohol laws, and impaired driving.
During the Covid pandemic, traffic deaths increased to the highest levels in 16 years.  Patterns and laws for alcohol sales and consumption have changed.  And social justice and equity are issues at the forefront in America.  All these factors have put enormous pressure and created unique challenges for law enforcement.
Last year the Center released a report on the History of Drunk Driving and found that police retirements were up 45 percent, resignations increased 18 percent, and new hires were down 5 percent.
Our latest webinar brings together law enforcement experts from around the country for a panel discussion on what issues are most impacting policing and what can be done to ensure public safety.
We hope you will join us for this exciting conversation!
Webinar Speakers include:
Kelly Roberson, Executive Director, Center for Alcohol Policy
Jerry Oliver, Center for Alcohol Policy Advisor, Former Chief of Police, Former Director of the Arizona Department of Liquor License and Control
J.T. Griffin, Principal, Griffin Strategies
Mike Brown, Former Chief of Police, Alexandria, VA
Dottie Taylor, Missouri Alcohol & Tobacco Control
Matthew Botting, California Alcoholic Beverage Control