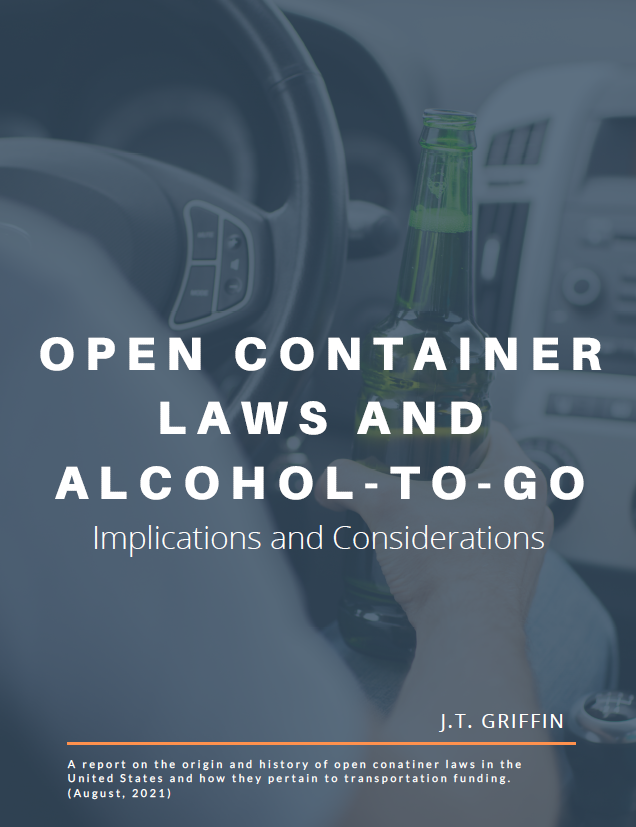 Today the Center for Alcohol Policy released a new white paper outlining the legislative history of open container laws in America, how they act as an important countermeasure in the fight to prevent drunk driving, and also addresses the significant safety questions raised by recent alcohol-to-go legislation following the COVID-19 pandemic.
The report was commissioned by the Center and authored by J.T. Griffin, principal at Griffin Strategies, LLC and former Chief Government Affairs Officer for Mothers Against Drunk Driving (MADD). It follows the publication of the Center's recent report on the legislative history of drunk driving in America also authored by Griffin.
Open container laws require alcohol beverages to be sealed and stored out of the passenger area in vehicles. Griffin's latest report provide legislative background to these laws and explains how they serve as an essential "countermeasure available to discourage drunk driving."
Griffin further discusses present challenges to these existing laws, specifically the onset of alcohol-to-go legislation in response to the dramatic dip in restaurant and bar sales in the wake of the COVID-19 pandemic.
"While efforts to allow alcohol-to-go predate COVID-19, these types of sales were presented as a practical way to help bars and restaurants during the pandemic," said Griffin, "However, now that things are returning to normal, alcohol-to-go sales raise a host of challenging questions such as federal compliance with open container laws, challenges for law enforcement, and concerns about underage drinking."
According to Griffin, alcohol-to-go raises substantial safety questions. "For over forty years, the U.S. has sent a strong 'don't drink and drive message' to the public. Groups like MADD have helped educate the public on the dangers of drinking and driving, including passage of strong open container laws," says Griffin, "As lawmakers consider these new laws, they must take into account the public health concerns that can occur from relaxing alcohol laws."
It is very possible that alcohol-to-go legislation may confuse this messaging, as stated in the report. Although these laws provide that to-go cocktails, wine, or beer must be covered, the laws do not guarantee compliance with federal open container laws.
"Time and again, Americans have made their opinion known: they want policymakers to prioritize public health and safety above increased convenience for acquiring alcohol – the Center has polled the public on this very topic for nearly a decade. Rather than rushing to make temporary privileges permanent, lawmakers ought to carefully weigh the long-term, far reaching public health impact that alcohol-to-go will have" said Jim Hall, former Chairman of the National Transportation Safety Board and Center for Alcohol Policy Advisory Council member.
"There are a number of issues that should be thoughtfully considered before making any deregulatory privileges permanent such as time of sale, alcohol outlet density, underage sales, and the reduced capacity of police officers to enforce federal open container laws, just to name a few. And of course, we cannot forget the tremendous toll that drunk driving has taken on our communities. It's possible that alcohol-to-go could cause a serious setback to our nation's historic success in the fight against it," said Hall.