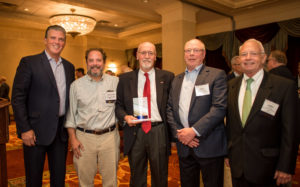 Alexandria, Va. – The Center for Alcohol Policy is pleased to announce that Chris Curtis, Deputy Secretary to the Board with the Virginia Alcoholic Beverage Control Authority (Virginia ABC), is the recipient of the Sixth Annual Leadership in Alcohol Regulation Award.
The award, which recognizes a specific program, agency or person who oversees the alcohol industry and promotes public safety, was presented by the Center's Advisory Council at the 11th Annual Alcohol Law and Policy Conference, in St. Paul, Minn.
"The Center for Alcohol Policy understands the importance of the work that alcohol regulators do on the front lines of many initiatives in the states aimed at the fair and proper regulation of the alcohol industry, the promotion of public health and safety and the support of a competitive business marketplace," said Mike Lashbrook, Executive Director of the Center. "This award highlights effective best practices that may serve as examples to alcohol regulators in other states."
"Chris served in several senior level positions with the Virginia ABC," continued Lashbrook, "and throughout his distinguished career worked toward a careful balance of public safety and a competitive marketplace."
Curtis is known for his mentorship, proactive efforts in enforcement and public health, promoting and implementing innovative strategies and a fair and balanced approach to alcohol regulation. He has a willingness to work with all stakeholders and build consensus on important alcohol regulatory issues.
Curtis started with the Virginia ABC as a store clerk, taking on several other roles before his current role as the deputy secretary to the board.
###
The Center for Alcohol Policy is a 501 c (3) organization whose mission is to educate policy makers, regulators and the public about alcohol, its uniqueness and regulation. By conducting sound and scientific-based research and implementing initiatives that will maintain the appropriate state-based regulation of alcohol, the Center promotes safe and responsible consumption, fights underage drinking and drunk driving and informs key entities about the effects of alcohol consumption. For more information, visit www.centerforalcoholpolicy.org or follow the Center on Twitter at www.twitter.com/AlcoholPolicy.