Law & Policy Conference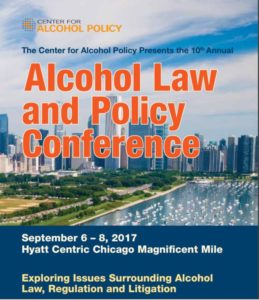 The Center for Alcohol Policy's 10th Annual Alcohol Law and Policy Conference will be held September 6 – 8, 2017, at the Hyatt Centric Chicago Magnificent Mile.
This annual event brings together a wide range of experts in the field of alcohol law – including attorneys, current and former alcohol regulators, academic thought leaders, public health advocates and other experts – to discuss current alcohol laws and challenges.
Registration
Take advantage of early bird registration rates by registering before September 1. Government and non-profit employees receive special discounted registration rates.

Early Bird Registration Rates:
$199 Government/Non-Profit
$699 Full Registrants
Registration rates will increase by $100 after September 1.
Hotel Accommodations

Reserve your room at the Hyatt Centric Chicago Magnificent Mile online or call 1-888-591-1234 and indicate that you are attending the Center for Alcohol Policy's Alcohol Law and Policy Conference.
Book by August 16 to secure the negotiated single/double group rate of $199 per night plus tax. Once the room block is sold, rooms and rates cannot be guaranteed. Make your reservation today!
Keynote Speaker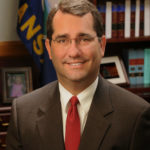 Kansas Attorney General Derek Schmidt will deliver the keynote address at the conference. Schmidt was first elected as the 44th attorney general of Kansas in 2010 and was re-elected to a second term in 2014. Prior to his service as attorney general, Schmidt served as a Kansas state senator representing part of Southeast Kansas, as chairman of the Senate Agriculture Committee and as the Senate majority leader. He also previously served as counsel to Kansas Governor Bill Graves, legislative assistant to Senator Nancy Landon Kassebaum and as an assistant attorney general for consumer protection.
Attorney General Schmidt will discuss the role state attorneys general play in policy debates about alcohol; a state's role under the 21st Amendment; his past experiences as a Kansas state senator; and his continuing efforts to fight underage drinking.
Education Sessions
The Future of Impaired Driving Countermeasures
This panel will review the progress made in reducing impaired driving and explore ways to jumpstart further progress. The panelists will present public policy options and technology advances that may impact impaired driving policies in the future. The impact of marijuana legalization and the increase in "drugged driving" traffic deaths also will be examined.
Alcohol Laws and the Courts: Trends and Arguments
Recently, courts are increasingly addressing challenges to alcohol laws, including new challenges to tied-house laws under the First Amendment. This panel will examine the most important and recent legal developments impacting alcohol regulation and what legal arguments seem to be most relevant in the courts.
Marijuana Policy in 2017
Marijuana legalization, decriminalization and medical marijuana continue to make headlines. The future of marijuana regulation remains uncertain given conflicts with federal law. Discussions about how best to regulate a "legal" marijuana industry are evolving as more states move toward legalizing medical and recreational marijuana. This panel will examine the status of attempts to legalize, the state and federal regulatory challenges, and public health and safety issues.
Health Consciousness Drives New Approaches to Alcohol Harm Reduction
While underage drinking rates and DUI alcohol-involved fatalities have experienced long-term declines; other alcohol-related problems remain high. Binge drinking is a particularly unhealthy practice that is prevalent among older youth and has cropped up as a problem with middle-aged to older adults. Binge and heavy drinking create public disturbances and nuisance problems in nightlife venues and neighborhoods. Hear from those involved in new approaches to personal and community alcohol issues that address concerns about the cost and prevalence of unhealthy practices.
MegaBrew – Two Years Later
In October 2015, the purchase of SABMiller by AB InBev was announced, the biggest deal in the global beer industry in history. The action raised significant antitrust and other legal issues around the globe. In the U.S., it raised many competition issues impacting the entire beer industry. This panel of legal experts will examine the legal issues involved with this major acquisition, how they were resolved, and what impact it may have on the beer industry moving forward.
Alcohol Regulation Debates in the States
States across the country are facing efforts to change their existing alcohol laws, which support the state-based, three-tier alcohol regulatory system. This panel will discuss some of the most recent debates in state capitols and how the time-tested principles of alcohol regulation have fared in legislative and regulatory debates.
Outlet Density – Striking the Right Balance
A recent trend seeks to expand the businesses and venues selling beer, wine and liquor. Is this economic development or a race to the bottom? What does research tell us about outlet density and problems associated with alcohol misuse and can we identify the right balance?
Liquor Law Enforcement – Best Practices From Around the Country
A competitive alcohol marketplace necessitates an even playing field, and that even playing field requires referees. Alcohol regulatory agencies both educate the industry players and enforce the laws in this regulated industry. This panel will explore some of the recent enforcement efforts in the states, the impact on the alcohol industry and what the future holds for alcohol regulation.
Leadership in Alcohol Regulation Award
During the conference, the Fifth Annual Leadership in Alcohol Regulation Award will be presented. The award recognizes the work of alcohol regulators who oversee the alcohol industry and promote public safety.
"The Center for Alcohol Policy appreciates that alcohol regulators are the front lines of many initiatives in the states aimed at keeping the alcohol industry properly regulated, promoting public health and safety and supporting a competitive business marketplace," said Jerry Oliver, a Center Advisory Council member who has served as alcohol regulator in Arizona and as police chief in Pasadena, Richmond and Detroit. "This award highlights effective best practices that may serve as examples to alcohol regulators in other states."
Nominations should provide information on how the nominee serves as an example to others in alcohol regulation. Consideration will be given to how the actions of this nominee are helpful to other agencies or employees, achieve desired results and engage or impact a broad coalition of stakeholders. Self-nominations are permitted, and letters of support are encouraged.
Nomination forms may be emailed to awards@centerforalcoholpolicy.org or mailed to: Center for Alcohol Policy, Attn: Leadership in Alcohol Regulation Award; 1101 King St., Suite 600-A; Alexandria, VA 22314.
The deadline for nominations is July 21, 2017, 5:30 p.m. EDT. Nominations postmarked/emailed after this deadline will not be considered.
CLE Credits
The Center works with state continuing legal education (CLE) boards to provide attending attorneys with CLE credits. The Center for Alcohol Policy is seeking appropriate CLE accreditation for the 2017 Alcohol Law and Policy Conference. In 2016, every attendee was able to secure CLE credits, and more than 35 states approved CLE accreditation for participants. Certain states do not have mandatory CLE requirements.
2016 Alcohol Law and Policy Conference
Enforcement of alcohol regulations and policies was a recurring theme during the Center for Alcohol Policy's Ninth Annual Law and Policy Conference held August 28 – 30 in Dallas, Texas. The conference brought together a diverse group of state and federal alcohol regulators, law enforcement, legislators, public health advocates and alcohol beverage industry representatives to review trends in the field of alcohol regulation and learn from best practices around the country.
For more information about the Alcohol Law and Policy Conference or other CAP events and programs, contact the Center for Alcohol Policy at (703) 519-3090 or info@centerforalcoholpolicy.org.