Law & Policy Conference
Registration is open for the Center for Alcohol Policy's Ninth Annual Alcohol Law and Policy Conference, taking place August 28-30, 2016, at the Renaissance Dallas Hotel in Dallas, Texas.

This annual event brings together a wide range of experts in the field of alcohol law – including attorneys, current and former alcohol regulators, academic thought leaders, public health advocates and other experts – to discuss and debate current alcohol laws and challenges.
Agenda
View the conference brochure for the schedule, educational session topics and list of presenters.
Hotel Accommodations
Reserve your room at the Renaissance Dallas Hotel online or call 1-800-811-8893 and indicate that you are attending the Center for Alcohol Policy Law and Policy Conference.
Book by August 5 to secure the negotiated single/double group rate of $169 per night plus tax, or the negotiated single/double government rate of $125 per night plus tax (valid government photo ID is required at the time of check-in). There is a limited number of rooms at the government rate, so book quickly! The room block may sell out prior to August 5. Once the room block is sold, rooms and rates cannot be guaranteed. Make your reservation today!
2015 Alcohol Law and Policy Conference
The Center for Alcohol Policy's Eighth Annual Alcohol Law and Policy Conference was held September 9-11, 2015, at the Hyatt Chicago Magnificent Mile in Chicago, Illinois.
Read Day 1 Conference Highlights>>
Read Day 2 Conference Highlights>>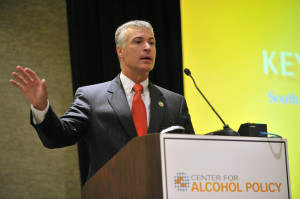 South Dakota Attorney General Marty Jackley, president of the National Association of Attorneys General, delivered the keynote address.
Since taking office in 2009, Attorney General Jackley has been committed to fighting crime, strengthening public safety and making South Dakota a safer place to live. Now serving his second term, Attorney General Jackley continues to implement programs aimed at protecting the citizens of South Dakota. To that end, he has worked to expand South Dakota's 24/7 Alcohol Sobriety and Monitoring Program across the state and nation, which has proven successful in reducing the likelihood for alcohol re-offenses.
Attorney General Jackley provided conference attendees with a better understanding of the role of state attorneys general in policy debates over alcohol and the importance of policies that safeguard against the abuse of alcohol.
In addition to the keynote address, the Law and Policy Conference offered a variety of sessions addressing current topics in alcohol law and policy with expert presenters and panelists.
During the conference, the Third Annual Leadership in Alcohol Regulation Award was presented to the Montana Department of Revenue's Liquor Education Unit. This award recognizes the work of alcohol regulators who oversee the alcohol industry and promote public safety. Any governmental agency or its employees working to promote and enforce alcohol laws and regulations are eligible for the award.
The Center works with state continuing legal education (CLE) boards to provide attending attorneys with CLE credits.
To date, the following states have approved CLE accreditation for 2015 Alcohol Law and Policy Conference attendees: Alabama, Arizona, Arkansas, California, Colorado, Connecticut, District of Columbia, Delaware, Florida, Hawaii, Idaho, Illinois, Kansas, Kentucky, Louisiana, Maine, Maryland, Massachusetts, Michigan, Missouri, Montana, Nebraska, Nevada, New Hampshire, New Mexico, New York, North Carolina, North Dakota, Ohio, Oklahoma, Oregon, Pennsylvania, Rhode Island, South Dakota, Vermont, Washington, West Virginia and Wyoming.
In 2014, every attendee was able to secure CLE credits, and more than 38 states approved CLE accreditation to participants of the Alcohol Law and Policy Conference. Certain states do not have mandatory CLE requirements.
For more information about the Alcohol Law and Policy Conference or other CAP events and programs, contact the Center for Alcohol Policy at (703) 519-3090 or info@centerforalcoholpolicy.org.