Law & Policy Conference
The Center for Alcohol Policy's 10th Annual Alcohol Law and Policy Conference will be held September 6 – 8, 2017, at the Hyatt Chicago Magnificent Mile. Stay tuned for online registration coming soon.
This annual event brings together a wide range of experts in the field of alcohol law – including attorneys, current and former alcohol regulators, academic thought leaders, public health advocates and other experts – to discuss and debate current alcohol laws and challenges.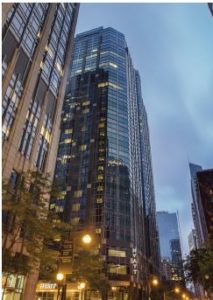 Hotel Accommodations

Reserve your room at the Hyatt Chicago Magnificent Mile online or call 1-888-591-1234 and indicate that you are attending the Center for Alcohol Policy's Alcohol Law and Policy Conference.
Book by August 16, 2017, to secure the negotiated single/double group rate of $199 per night plus tax. Once the room block is sold, rooms and rates cannot be guaranteed. Make your reservation today!
2016 Alcohol Law and Policy Conference
Enforcement of alcohol regulations and policies was a recurring theme during the Center for Alcohol Policy's Ninth Annual Law and Policy Conference held at the Renaissance Dallas Hotel August 28 – 30 in Dallas, Texas. The conference brought together a diverse group of state and federal alcohol regulators, law enforcement, legislators, public health advocates and alcohol beverage industry representatives to review trends in the field of alcohol regulation and learn from best practices around the country.
Jim Hall, Center for Alcohol Policy advisor and former National Transportation Safety Board chairman, welcomed attendees and summarized the objectives of the conference saying, "Look around the room. There are regulators, legislators, federal health officials, public health interest groups, trade groups, law enforcement and industry members. We may not always agree on policy, but the fact that we are all under one roof having a civil debate is an accomplishment not only for the Center for Alcohol Policy but also for your leadership in your respective fields."
The conference began with a presentation by staff of the Substance Abuse and Mental Health Services Administration (SAMHSA), the lead federal agency charged with coordinating the federal response to underage drinking. SAMHSA Chief of Staff Tom Coderre and Public Health Analyst Rob Vincent reviewed data, trends and prevention strategies to address this important public health priority. While progress has been made in this fight, especially with regard to episodic drinking by 12-17 year olds, the SAMHSA officials pointed out that progress seems to have stalled with the 18-20 age group.
During the question and answer portion of the session "Legislators and Regulators Working Together," Jerry Oliver, a member of the Center's Advisory Council and former regulator and chief of police, made a passionate plea to a panel of state regulators and legislators to provide the resources to properly staff and enforce the licensing and trade practice regulations that are so important to protect public safety. Oliver cited the past trends of budget cuts and staff reductions in alcohol regulatory agencies that have created a situation where a mere handful of alcohol enforcement agents are responsible for overseeing an entire state area and tens of thousands of licensees.
During the session "Trade Practices in the Headlines," Shawn Walker, deputy chief for the Bureau of Law Enforcement of the Virginia Department of Alcohol Beverage Control, reviewed his agency's recent efforts to increase trade practice enforcement in their state. Rather than a few well-publicized stings for those breaking trade practice rules, the Virginia initiative starts with an educational effort with all three tiers of the industry to review the market practice rules and notify the industry that the agency's special investigations unit will soon begin a much more aggressive approach to enforcement of these important regulations. The goal is to achieve voluntary compliance through education.
Other important topics covered at the conference included an update on alcohol litigation, intellectual property and alcohol law, international trade and alcohol and issues in private label alcohol.
Leadership in Alcohol Regulation Award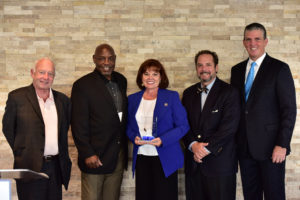 During the conference, the Fourth Annual Leadership in Alcohol Regulation Award was presented to Sherry Cook, executive director of the Texas Alcoholic Beverage Commission (TABC). The award recognizes the work of alcohol regulators who oversee the alcohol industry and promote public safety.
"The Center for Alcohol Policy appreciates that alcohol regulators are the front lines of many initiatives in the states aimed at keeping the alcohol industry properly regulated, promoting public health and safety and supporting a competitive business marketplace," said Jerry Oliver, a Center Advisory Council member who has served as alcohol regulator in Arizona and as police chief in Pasadena, Richmond and Detroit. "This award highlights effective best practices that may serve as examples to alcohol regulators in other states."
"One of the most impressive facets of Sherry Cook's work is her tireless dedication to improve the state standard for liquor regulation by spearheading innovative programs and initiatives aimed at protecting the public and increasing the efficiency and effectiveness of the commission," continued Oliver. "Since Director Cook joined the commission in 2006, she has made giant strides to modernize TABC's business practices and initiated programs that focus on education and training."
Director Cook oversees an agency with more than 600 employees, a biennial budget of more than $95 million, $200 million in annual revenue collections and a licensing system covering 73 different types of licenses among more than 50,000 licensed businesses in Texas. She has worked tirelessly to modernize the efficiency and operations of the TABC as well as the inter-office coordination for a large and diverse state. As an example of Cook's commitment to improving the agency, she has implemented a statewide reorganization of the agency's leadership structure. The reorganization better distributes the agency's manpower and resources in line with the demands of evolving public safety concerns, increases in the state's population and a growing alcoholic beverage industry.
Director Cook has made public education a key focus of the TABC and has recognized that the public needs to have more facts about alcohol and its potential for misuse. Under her leadership, the Texas ABC implemented 2Young2Drink, a web-based education program aimed at school-aged students and their parents, which highlights the dangers of underage consumption of alcoholic beverages.
CLE Credits
The Center works with state continuing legal education (CLE) boards to provide attending attorneys with CLE credits. The Center for Alcohol Policy is seeking appropriate CLE accreditation for the 2016 Alcohol Law and Policy Conference. In 2015, every attendee was able to secure CLE credits, and more than 35 states approved CLE accreditation for participants. Certain states do not have mandatory CLE requirements.
To date, the following states have approved CLE accreditation for the 2016 Alcohol Law and Policy Conference:
Alabama, Arkansas, Colorado, Delaware, Florida, Georgia, Idaho, Indiana, Iowa, Kansas, Kentucky, Louisiana, Maine, Minnesota, Mississippi, Missouri, Montana, Nebraska, Nevada, New Jersey, New Mexico, North Carolina, Ohio, Oklahoma, Oregon, South Carolina, Texas, Vermont, Virginia and West Virginia
For more information about the Alcohol Law and Policy Conference or other CAP events and programs, contact the Center for Alcohol Policy at (703) 519-3090 or info@centerforalcoholpolicy.org.