Sherry Cook, Executive Director of the Texas Alcoholic Beverage Commission, Receives Leadership in Alcohol Regulation Award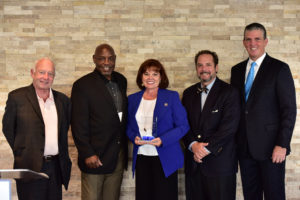 DALLAS, TX – The Center for Alcohol Policy is pleased to announce that Sherry Cook, executive director of the Texas Alcoholic Beverage Commission (TABC), is the recipient of the Fourth Annual Leadership in Alcohol Regulation Award.
The award, which recognizes a specific program, agency or person who oversees the alcohol industry and promotes public safety, was presented by the Center's Advisory Council at the Ninth Annual Alcohol Law and Policy Conference, taking place at the Dallas Renaissance Hotel in Dallas, Texas.
"The Center for Alcohol Policy appreciates that alcohol regulators are the front lines of many initiatives in the states aimed at keeping the alcohol industry properly regulated, promoting public health and safety and supporting a competitive business marketplace," said Jerry Oliver, a Center Advisory Council member who has served as alcohol regulator in Arizona and as police chief in Pasadena, Richmond and Detroit. "This award highlights effective best practices that may serve as examples to alcohol regulators in other states."
"One of the most impressive facets of Sherry Cook's work is her tireless dedication to improve the state standard for liquor regulation by spearheading innovative programs and initiatives aimed at protecting the public and increasing the efficiency and effectiveness of the commission," continued Oliver. "Since Director Cook joined the commission in 2006, she has made giant strides to modernize TABC's business practices and initiated programs that focus on education and training."
Director Cook oversees an agency with more than 600 employees, a biennial budget of more than $95 million, $200 million in annual revenue collections and a licensing system covering 73 different types of licenses among more than 50,000 licensed businesses in Texas. She has worked tirelessly to modernize the efficiency and operations of the TABC as well as the inter-office coordination for a large and diverse state. As an example of Cook's commitment to improving the agency, she has implemented a statewide reorganization of the agency's leadership structure. The reorganization better distributes the agency's manpower and resources in line with the demands of evolving public safety concerns, increases in the state's population and a growing alcoholic beverage industry.
Director Cook has made public education a key focus of the TABC and has recognized that the public needs to have more facts about alcohol and its potential for misuse. Under her leadership, the Texas ABC implemented 2Young2Drink, a web-based education program aimed at school-aged students and their parents, which highlights the dangers of underage consumption of alcoholic beverages.
###
Photo Download: Award Recipient and Center for Alcohol Policy Advisors
(L to R): Center for Alcohol Policy Advisors Jim Hall and Jerry Oliver; Texas Alcoholic Beverage Commission Executive Director Sherry Cook; Center Advisors Brannon Denning and Patrick Lynch
Read biographical details for the Center for Alcohol Policy Advisory Council members.
The Center for Alcohol Policy is a 501 c (3) organization whose mission is to educate policy makers, regulators and the public about alcohol, its uniqueness and regulation. By conducting sound and scientific-based research and implementing initiatives that will maintain the appropriate state-based regulation of alcohol, the Center promotes safe and responsible consumption, fights underage drinking and drunk driving and informs key entities about the effects of alcohol consumption. For more information, visit www.centerforalcoholpolicy.org or follow the Center on Twitter at www.twitter.com/AlcoholPolicy.