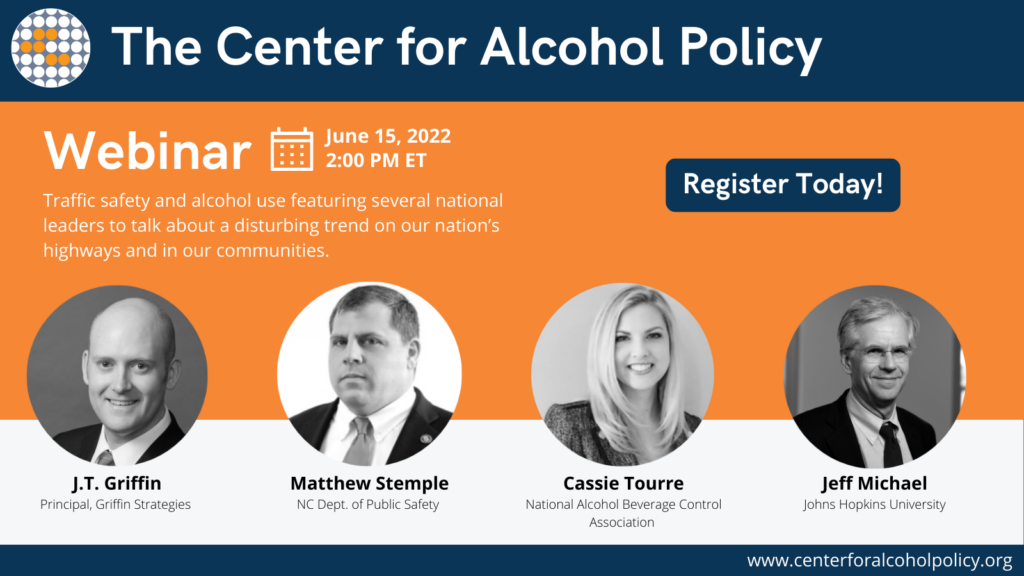 On June 15th, 2022, at 2:00 PM Eastern, the Center for Alcohol Policy will host a Webinar on traffic safety and alcohol use featuring several national leaders to talk about a disturbing trend on our nation's highways and in our communities.
During the COVID Pandemic, traffic deaths soared to new heights. While many predicted the crisis would lead to a reduction in highway deaths, the opposite occurred. The National Highway Traffic Safety Administration recently announced early estimates for traffic deaths in 2021 and the findings are grim. According to NHTSA, traffic deaths reached a 16 year high in 2021, with an estimated 42,195 deaths amounting to a 10.5% overall increase in deaths. This follows a two-year trend of increasing highway deaths and injuries.
While the news is not good, the recently passed Bipartisan Infrastructure Law contained several provisions that could help, including new technologies aimed at stopping distracted and impaired driving. In addition, the Department of Transportation launched the National Roadway Safety Strategy which adopts the international Safe Systems approach to highway safety.
Impaired Driving continues to play a major role in traffic deaths. According to Fatality Analysis Reporting System (FARS), in 2020 alcohol impaired driving deaths increased 14% to 11,654. Among the concerns for this increase includes challenges facing law enforcement, including alcohol deregulation.
This Webinar will include the latest information on traffic deaths as well as share potential solution for to stop these tragedies
Webinar Speakers include:
Kelly Roberson, Executive Director, Center for Alcohol Policy
Jim Hall, Former NTSB Chairman
J.T. Griffin, Principal, Griffin Strategies
Jeff Michael, Johns Hopkins University,
Matthew Stemple, NC Dept of Public Safety
Cassie Tourre, National Alcohol Beverage Control Association