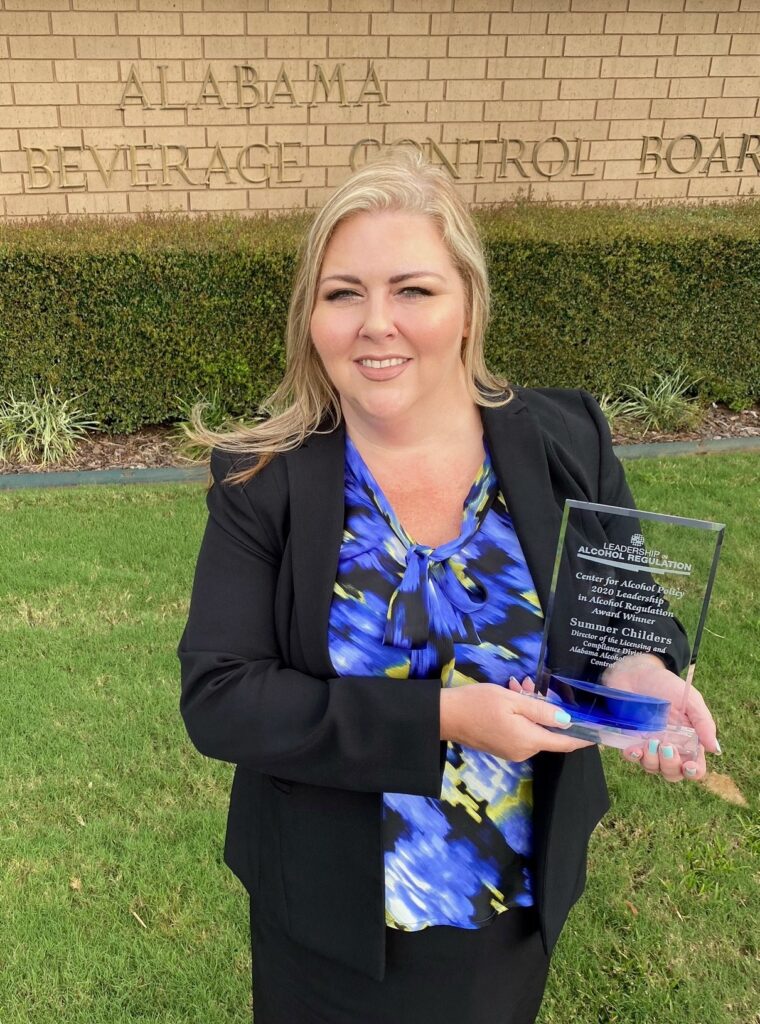 The Center for Alcohol Policy is pleased to announce that Summer Childers, Director of the Licensing and Compliance Division of the Alabama Alcoholic Beverage Control Board, is the recipient of the Eighth Annual Leadership in Alcohol Regulation Award.
The award, which recognizes a specific program, agency or person who oversees the alcohol industry and promotes public health and safety, was announced during the Center's 13th Annual Alcohol Law and Policy Conference.
Director Childers has served the State of Alabama for 10 years and has become an invaluable resource for the state and local governments, the alcohol industry, and anyone interested in alcohol regulation in the state of Alabama. Ms. Childers was chosen to receive this award because she has dutifully organized and implemented major structural changes within the Alabama ABC as well as served as lead on efforts to review and improve AL ABC Administrative Rules and Regulations. Director Childers is noted for her collaborative effort to achieve fairness and to ensure all voices are heard at the table when seeking solutions to problems.
Moreover, Ms. Childers' opinions and insights on proposed legislation are frequently sought after on account of her deep institutional knowledge of the industry and its governing laws. In Alabama ABC Administrator Mac Gipson's words, "Dedication, perseverance, hard work, and integrity define Summer Childers."
"The Center works diligently to promote public health and safety through America's state-based alcohol regulatory system and strives to educate regulators on the importance of collaborating with varied stakeholders to effectively regulate alcohol," said Jerry Oliver, Center for Alcohol Policy Advisor and former Arizona regulator and police chief of Richmond, Pasadena, and Detroit. "The Center is proud to present its annual award to someone who is well-known for sharing those same values."
We ask that you help us celebrate Director Summer Childers for her dedication to the industry and public health and safety.