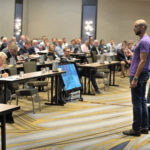 Alexandria, Va. – The Center for Alcohol Policy hosted its 10th Annual Alcohol Law and Policy Conference September 6 – 8, 2017, at the Hyatt Centric Chicago Magnificent Mile in Chicago, Illinois. The conference was attended by a record-setting crowd with representation from 34 states and Washington, D.C. This annual event brings together a wide range of experts in the field of alcohol law – including attorneys, current and former alcohol regulators, academic thought leaders, public health advocates and other experts – to discuss current alcohol laws and challenges.
President of the National Association of Attorneys General and Kansas Attorney General Derek Schmidt delivered a keynote address on the role state attorneys general play in policy debates about alcohol and the state's role under the 21st Amendment. Attorney General Schmidt reflected on our nation's history with alcohol regulation and the fact that a century ago, problems associated with alcohol misuse dominated the headlines and national debate. He observed that today's lack of negative headlines and a more rational debate about alcohol regulation is a tribute to conference attendees and current regulation in the states.
Results of the Center's 2017 national survey on the public opinion of alcohol regulation were also reviewed by pollster Lori Weigel of Public Opinion Strategies. According to the poll, four-in-five Americans support individual states' ability to regulate alcohol. Additionally, Americans overwhelmingly believe that public health and safety issues should be the priority of their local policymakers when crafting alcohol regulations. An analysis of the survey's key findings is available on the Center's website.
During the conference, the Center announced Kathie Durbin, chief of licensure, regulation and education at the Montgomery County, Maryland, Department of Liquor Control, as the recipient of the Fifth Annual Leadership in Alcohol Regulation Award. The award recognizes the work of alcohol regulators who oversee the alcohol industry and promote public safety.
Other highlights of the conference included: Dr. Joseph Kolly's presentation on impaired driving trends as Chief Safety Scientist of the National Highway Traffic Safety Administration; Indiana Solicitor General Thomas Fischer's insights on the court challenges to alcohol regulation in his state; Donovan Borman, executive director of the Illinois Liquor Control Commission, reviewing Illinois' efforts to crack down on illegal smuggling of alcohol; and drug abuse policy expert Jonathon Caulkins of Carnegie Mellon detailing the status of marijuana legalization and the resulting regulatory challenges.
###
The Center for Alcohol Policy is a 501c(3) organization whose mission is to educate policymakers, regulators and the public about alcohol, its uniqueness and regulation. By conducting sound and scientific-based research and implementing initiatives that will maintain the appropriate state-based regulation of alcohol, the Center promotes safe and responsible consumption, fights underage drinking and drunk driving and informs key entities about the effects of alcohol consumption. For more information, visit www.centerforalcoholpolicy.org or follow the Center on Twitter at www.twitter.com/AlcoholPolicy.