Kathie Durbin of the Montgomery County, Maryland, Department of Liquor Control receives Leadership in Alcohol Regulation Award.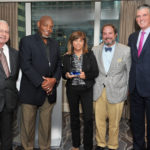 Alexandria, Va. – The Center for Alcohol Policy is pleased to announce that Kathie Durbin, chief of licensure, regulation and education at the Montgomery County, Maryland, Department of Liquor Control, is the recipient of the Fifth Annual Leadership in Alcohol Regulation Award.
The award, which recognizes a specific program, agency or person who oversees the alcohol industry and promotes public safety, was presented by the Center's Advisory Council at the 10th Annual Alcohol Law and Policy Conference, in Chicago, Illinois, last week.
"The Center for Alcohol Policy appreciates that alcohol regulators are on the front lines of many initiatives in the states aimed at keeping the alcohol industry properly regulated, promoting public health and safety and supporting a competitive business marketplace," said Jerry Oliver, a Center Advisory Council member, who has served as an alcohol regulator and police chief. "This award highlights effective best practices that may serve as examples to alcohol regulators in other states."
"What stood out to me is Kathie's tireless energy and enthusiasm to oversee such a densely populated and diverse jurisdiction," continued Oliver. "Montgomery County is incredibly demographically diverse with more than 140 languages spoken. Kathie has helped to develop and manage bi-weekly alcohol regulatory trainings for more than 1,000 servers and sellers of alcohol annually. Since Kathie was named division chief at the department in 2003, she has made giant strides to promote educational training for employees at the more than 1,000 licensed establishments and 1,000 licensed special events every year, as well as communication between community leaders, businesses, law enforcement and regulators."
Durbin oversees many educational resources that not only protect public safety, but also improve the business environment in the county. She helped to establish the Alcohol Law Education & Regulatory Training (A.L.E.R.T.) program, offered by the department twice a month, at no cost to attendees to improve compliance with alcohol laws; a revamped Compliance Check program; and a Mystery Shop program, among others.
Durbin is known for her fair and consistent approach to alcohol regulation and willingness to work with all stakeholders, including the public health community, law enforcement, businesses and other regulators to improve public safety. Spearheading the Annual Maryland Alcohol Forum, Durbin brings together alcohol license administrators and law enforcement to discuss policy priorities, trends in public health and licensing and enforcement best practices.
###
Photo Download: Award recipient and Center for Alcohol Policy Advisors
(L to R): Center for Alcohol Policy Advisors Jim Hall and Jerry Oliver; award recipient Kathie Durbin; Center Advisors Brannon Denning and Patrick Lynch
Read biographical details for the Center for Alcohol Policy Advisory Council members.
The Center for Alcohol Policy is a 501 c (3) organization whose mission is to educate policy makers, regulators and the public about alcohol, its uniqueness and regulation. By conducting sound and scientific-based research and implementing initiatives that will maintain the appropriate state-based regulation of alcohol, the Center promotes safe and responsible consumption, fights underage drinking and drunk driving and informs key entities about the effects of alcohol consumption. For more information, visit www.centerforalcoholpolicy.org or follow the Center on Twitter at www.twitter.com/AlcoholPolicy.