Essay Contest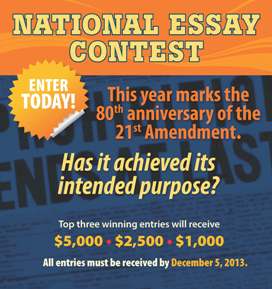 The deadline to enter the Center for Alcohol Policy Sixth Annual Essay Contest has passed. Stay tuned for the announcement of winners in early 2014.
The topic for the Sixth Annual Essay Contest was: "This year marks the 80th anniversary of the 21st Amendment. Has it achieved its intended purpose?"
This annual contest is intended to foster debate, analysis and examination of state alcohol regulation and its implications for citizens across the United States.
WHO CAN ENTER:  The contest is open to all persons who are over the age of 18 as of December 2013. Students, academics, practicing attorneys, policymakers and members of the general public are encouraged to submit essays.
DEADLINE:  The deadline for entries was December 5, 2013.  Winners will be announced in 2014.
AWARDS:  Cash prizes will be awarded to the first, second and third place winners in the amounts of $5,000, $2,500 and $1,000 respectively.
RULES & GUIDELINES:  More information on eligibility requirements, essay format and content and the judging process are outlined in the Essay Contest rules.
Read the winning essays from 2012:
1st Place: Joseph H. L. Perez-Montes

2nd Place: Joseph Ojih
For more information, please call (703) 519-3090.