Essay Contest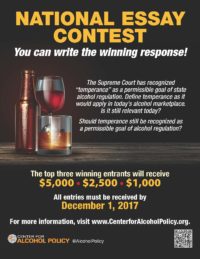 The Center for Alcohol Policy's 10th Annual National Essay Contest deadline was Dec. 1, 2017, and the contest is now closed. Submitted essays are currently under review, and the winning essays will be announced in early 2018.
The topic for this year's contest was:
The Supreme Court has recognized "temperance" as a permissible goal of state alcohol regulation. Define temperance as it would apply in today's alcohol marketplace. Is it still relevant today? Should temperance still be recognized as a permissible goal of alcohol regulation?
Read the winning entries from the 2016 Annual Essay Contest:
1st Place: Anna Brawley, "Deconstructing the Drink Menu: A History of Alcoholic Beverages and Proposed Policy Framework"
2nd Place: Rebecca Strazds, "Localities, Licenses, and Loopholes: An Analysis of Variances in Alcohol Regulation and their Continued Effectiveness in Modern Industry"
3rd Place: David King, "Going Deeper than a Proof Rating: A Case for Regulating Beverage Types Based on Social Impact"