Essay Contest
Stay tuned for the announcement of the winners of the Center for Alcohol Policy (CAP) Seventh Annual Essay Contest.
The CAP Essay Contest is intended to foster debate, analysis and examination of state alcohol regulation and its implications for citizens across the United States.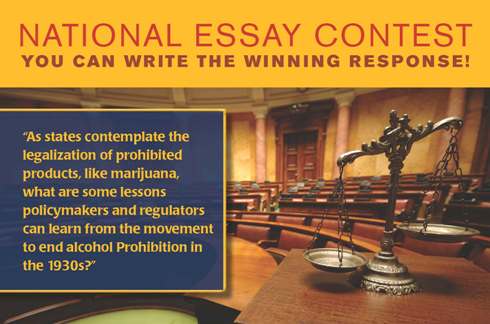 The topic for this year's contest is: "As states contemplate the legalization of prohibited products, like marijuana, what are some lessons policymakers and regulators can learn from the movement to end alcohol Prohibition in the 1930s?"
The contest is open to all persons who are over the age of 18 as of November 2014. Students, academics, practicing attorneys, policymakers and members of the general public are encouraged to submit essays.
Cash prizes will be awarded to the first, second and third place winners in the amounts of $5,000, $2,500 and $1,000 respectively.
Click here to read the complete contest rules and formatting guidelines.
Read the winning essays from last year's essay contest:
1st Place: Warren Adegunle – Achieving Success

2nd Place: Joseph Ojih – Attractions and Merits: Making the Case for the 21st Amendment
3rd Place: Craig Childs – The Twenty-First Amendment: A Lesson in Responsible Lawmaking and Governance
For more information, please call (703) 519-3090.