Essay Contest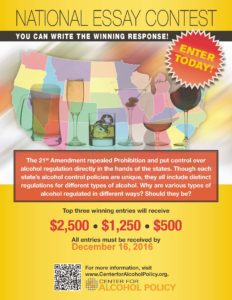 The Center for Alcohol Policy's national essay contest is intended to foster debate, analysis and examination of state alcohol regulation.
The Center is now accepting entries for its Ninth Annual Essay Contest. The topic for this year's contest is:
The 21st Amendment repealed Prohibition and put control over alcohol regulation directly in the hands of the states. Though each state's alcohol control policies are unique, they all include distinct regulations for different types of alcohol. Why are various types of alcohol regulated in different ways? Should they be?
WHO CAN ENTER: The contest is open to all persons who are over the age of 18 as of December 2016. Students, academics, practicing attorneys, policymakers and members of the general public are encouraged to submit essays.
HOW TO ENTER: Essays may be emailed to essay@centerforalcoholpolicy.org or mailed as a hard copy to:
Center for Alcohol Policy
Attn: Essay Contest
1101 King St., Suite 600-A
Alexandria, VA 22314
Essays must be accompanied by an entry form.
DEADLINE: The deadline for entries has been extended to December 16, 2016. Winners will be announced in early 2017.
AWARDS: Cash prizes will be awarded to the first, second and third place winners in the amounts of $2,500, $1,250 and $500 respectively.
Read essay guidelines for more details.
For the Center's Eighth Annual Essay Contest, entrants were asked to explore how this "unquestionably legitimate" system has fostered competition, increased new products available to consumers and worked to protect consumers and the public.
2015 marked the 10th anniversary of the Supreme Court's Granholm decision, which ruled against two states' laws that discriminated against out-of-state alcohol producers but also affirmed, "The three-tier system is unquestionably legitimate."
Read the winning entries from the 2015 Annual Essay Contest:
1st Place: Roni Elias, a recent graduate of Florida A&M University College of Law, is the winner of the Center for Alcohol Policy's Eighth Annual Essay Contest. Elias' winning essay, "Three Cheers for Three Tiers: Why the Three-Tier System Maintains Its Legal Validity and Social Benefits After Granholm," outlines the regulatory and economic advantages of the three-tier system and how threats to the system could erode those benefits that suppliers, wholesalers, retailers and consumers receive.
"[A]s Americans have long recognized, alcohol cannot be sold in the same way as any other commodity… changing the operation of the three-tier system should not, therefore, be taken lightly," Elias' essay states.
Elias concludes, "Although the Supreme Court's decision in Granholm might have seemed to offer a chance for a dramatic expansion of direct shipment and a transformation of the regulatory scheme for selling alcohol, a careful reading of that decision, along with subsequent judicial rulings have made it clear that the three-tier system is still consistent with the constitutional order."
2nd Place: Gurney Pearsall, a student at the University of Colorado Law School, was awarded second place for his essay, "When Wine Enters, Sense Leaves: A Case For Why the Three-Tier System's Regulations Stir Competition, Boost Diversity and Protect Consumers," which compares aspects of the current U.S. alcohol regulatory system to that of European alcohol regulatory models to highlight the benefits of a state-based, three-tiered system.
Pearsall's essay states, "In Granholm v. Heald, the U.S. Supreme Court described the nearly century-old three-tier system as 'unquestionably legitimate.' As such, the Twenty-First Amendment will likely continue governing the three-tier system for the foreseeable future."
Pearsall concludes, "The three-tier system is a uniquely American enterprise, and it continues to set the standard for other nations that are struggling to walk the fine line between dangerously under-regulating their alcohol market, on the one hand, and counter-productively overregulating their alcohol market on the other hand."
For more information, please call (703) 519-3090.