Essay Contest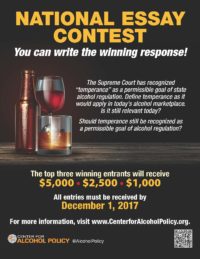 The Center for Alcohol Policy is pleased to announce that Joseph Uhlman, a third-year law student at the University of Kansas School of Law, has been named the winner of its 10th Annual Essay Contest. The national essay contest is intended to foster debate, analysis and examination of alcohol policy.
To enter the contest, participants were asked to provide thoughtful responses to this:
The Supreme Court has recognized "temperance" as a permissible goal of state alcohol regulation. Define temperance as it would apply in today's alcohol marketplace. Is it still relevant today? Should temperance still be recognized as a permissible goal of alcohol regulation?
Read the winning entries from the 2017 Annual Essay Contest:
1st Place: Joseph Uhlman, "The Syntax of the Sin Tax: Why Redefining Temperance Will Promote Defensible Alcohol Legislation in Today's Marketplace"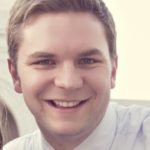 2nd Place: Timothy Gervais, "A Return to Temperance: Regulation, Cultural Change, and Private Temperance in the Modern Age"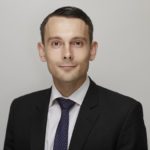 3rd Place: Henrik Born,"What's in a name? A Study of Temperance in American History and a Proposal for Redefinition."