Essay Contest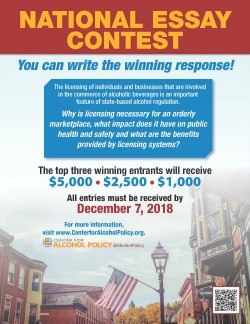 The Center for Alcohol Policy is now accepting entries for its 11th Annual National Essay Contest. The topic for this year's contest is:
The licensing of individuals and businesses that are involved in the commerce of alcoholic beverages is an important feature of state-based alcohol regulation. Why is licensing necessary for an orderly marketplace, what impact does it have on public health and safety and what are the benefits provided by licensing systems?
WHO CAN ENTER: The contest is open to all persons who are over the age of 18 as of December 2018. Students, academics, practicing attorneys, policymakers and the general public are encouraged to submit essays.
HOW TO ENTER: Essay submissions must be received by 5:30 p.m. EST on Dec. 7, 2018. Essays submitted after this deadline will not be considered. Entries may be submitted through https://tinyurl.com/2018EssayContest.
DEADLINE: The deadline for entries is Dec. 7, 2018. Winners will be announced in early 2019.
AWARDS: Cash prizes will be awarded to the first, second and third place winners in the amounts of $5,000, $2,500 and $1,000 respectively.
For more information, please read the Center's essay guidelines.
10th Annual Essay Contest
Below are the winning entries from the 2017 Annual Essay Contest: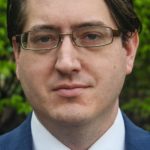 1st Place: Joseph Uhlman, "The Syntax of the Sin Tax: Why Redefining Temperance Will Promote Defensible Alcohol Legislation in Today's Marketplace"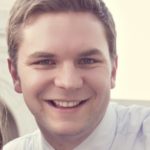 2nd Place: Timothy Gervais, "A Return to Temperance: Regulation, Cultural Change, and Private Temperance in the Modern Age"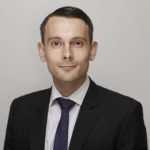 3rd Place: Henrik Born,"What's in a name? A Study of Temperance in American History and a Proposal for Redefinition."