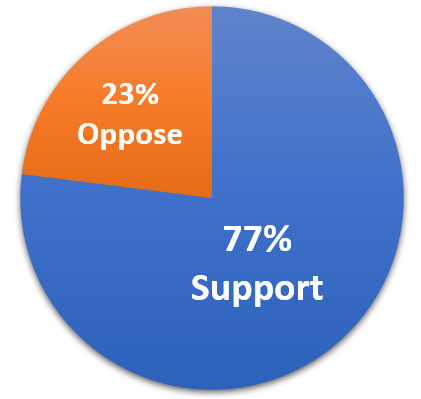 ALEXANDRIA, Va. – According to a national survey commissioned every two years by the Center for Alcohol Policy, an overwhelming majority of the public supports requiring alcohol retailers to be a resident of their respective state. This is the first time that the Center has tested public support for residency requirements in order to obtain a license to sell alcohol and found that fully 77%of Americans favor these laws.
Additionally, the state residency requirement has overwhelming support across party lines, with 76% of Republicans, 75% of Democrats and 78% of independents in support. Support also exceeds two-thirds in every region of the country and with every demographic sub-group examined.
These data points emerge at an active time for alcohol regulation given that the United States Supreme Court is currently reviewing a Tennessee state alcohol law relating to durational residency requirements. In Tennessee Wine and Spirits Retailers Association v. Thomas the Court is considering whether a state law to regulate liquor sales by granting licenses only to those that have met state residency requirements violates the dormant Commerce Clause. The petitioners in support of the Tennessee Retailers argue that the 21st Amendment gives states the complete authority to regulate the sale of alcohol within their borders.
It is noteworthy that not only does the general public support residency requirements, but significant members of the alcohol law community and industry do as well. Amicus briefs from 14 different organizations and groups were submitted to the Court in support of the Tennessee Wine and Spirits Retailers Association, most notably a brief filed by a bipartisan group of 36 state attorneys general. This brief defends residency laws, but additionally examines ramifications this case could ensue with regard to additional effective alcohol regulations, such as physical presence requirements. The Center for Alcohol Policy also filed a brief highlighting the historical background of state alcohol regulations.
"Laws protecting public health and safety potentially could be at risk with an adverse ruling. The attorneys general of an overwhelming majority of states, both Republican and Democrat, recognize the effectiveness of our system of state-based regulation of alcohol in the US and are determined to educate the high court on the potential impact a decision could have on many state laws," stated Patrick Lynch, Center for Alcohol Policy Advisor and former Attorney General of Rhode Island.
The Court heard oral arguments on January 16, 2019, and a decision is expected by the end of June.

The Center for Alcohol Policy's national opinion survey results additionally show support for a broad array of state-based alcohol regulation, and this support has been overwhelmingly consistent over the years.

Methodology: The survey was conducted by New Bridge Strategy among 1,000 adults ages 21 and older throughout the nation. The interviews were conducted online and distributed proportionally throughout the U.S. and are demographically representative of this age group. The confidence interval associated with this sample is +/-3.5% at the 95% confidence level; with varying confidence for population subgroups within the sample.
###

The Center for Alcohol Policy is a 501c(3) organization whose mission is to educate policy makers, regulators and the public about alcohol, its uniqueness and regulation. By conducting sound and scientific-based research and implementing initiatives that will maintain the appropriate state-based regulation of alcohol, the Center promotes safe and responsible consumption, fights underage drinking and drunk driving and informs key entities about the effects of alcohol consumption. For more information, visit www.centerforalcoholpolicy.org or follow the Center on Twitter at www.twitter.com/AlcoholPolicy.