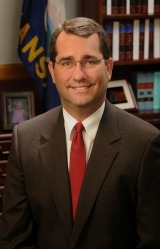 ALEXANDRIA, Va. – Kansas Attorney General Derek Schmidt will deliver the keynote address at the Center for Alcohol Policy's 10th Annual Alcohol Law and Policy Conference on September 6 – 8, 2017, at the Hyatt Chicago Magnificent Mile in Chicago, Illinois.
This annual event brings together a wide range of experts in the field of alcohol law – including state regulators, attorneys general, legislators, public health leaders, educators and industry officials – to discuss current alcohol laws and policies.
Schmidt was first elected as the 44th attorney general of Kansas in 2010 and was re-elected to a second term in 2014. Prior to his service as attorney general, Schmidt served as a Kansas state senator representing part of Southeast Kansas, as chairman of the Senate Agriculture Committee and as the Senate majority leader. He also previously served as counsel to Kansas Governor Bill Graves, legislative assistant to Senator Nancy Landon Kassebaum and as an assistant attorney general for consumer protection.
Schmidt also serves in several leadership positions with the National Association of Attorneys General – including president-elect and member of the board of directors.
Attorney General Schmidt will discuss the role state attorneys general play in policy debates about alcohol; a state's role under the 21st Amendment; his past experiences as a Kansas state senator; and his continuing efforts to fight underage drinking.
In addition to the keynote address, the Alcohol Law and Policy Conference will offer a variety of sessions addressing current topics in alcohol law and policy with expert presenters and panelists.
Government and non-profit employees receive special discounted registration rates. Take advantage of early bird registration rates by registering before September 1.
For hotel reservations at the Hyatt Chicago Magnificent Mile, book online or call 1-888-591-1234 and indicate that you are attending the Center for Alcohol Policy's Alcohol Law and Policy Conference to secure the negotiated single/double group rate of $199 per night plus tax.
Be sure to make your room reservation before the group cut-off date of August 16.
The Center works with state continuing legal education (CLE) boards to provide attending attorneys with CLE credits. In 2016, more than 31 states approved CLE accreditation for participants. Certain states do not have mandatory CLE requirements.
More details about the 2017 Alcohol Law and Policy Conference will be posted on the Center's website, as they become available.
###
The Center for Alcohol Policy is a 501c(3) organization whose mission is to educate policymakers, regulators and the public about alcohol, its uniqueness and regulation. By conducting sound and scientific-based research and implementing initiatives that will maintain the appropriate state-based regulation of alcohol, the Center promotes safe and responsible consumption, fights underage drinking and drunk driving and informs key entities about the effects of alcohol consumption. For more information, visit www.centerforalcoholpolicy.org or follow the Center on Twitter at www.twitter.com/AlcoholPolicy.