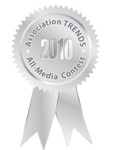 ALEXANDRIA, VA – The Center for Alcohol Policy's educational video, The Dangers of Alcohol Deregulation: The United Kingdom Experience vs. American Alcohol Regulation, has been honored with a silver award in the "Informational CD, Video or Podcast" category of the Association TRENDS' 2010 All-Media Contest. This annual competition recognizes the most creative and effective communication vehicles developed in the association industry.
"This video is a valuable tool that helps further the Center for Alcohol Policy's efforts to educate policy makers, regulators and the public about alcohol, its uniqueness and its regulation," said Jim Petro, chair of the Advisory Council at the Center and former Ohio attorney general.
The Center released the educational video in the spring of 2010 to highlight the contrast between the deregulated system of alcohol controls in the United Kingdom with the effective system of alcohol regulation in the United States. The video conveys a serious message about the lessons Americans should take from the United Kingdom and helps viewers better understand why the United States has a state-based system of alcohol regulation under the 21st Amendment and how it works to effectively regulate alcohol as it does today.
In addition to disseminating copies of the video to members of the alcohol industry and members of community and public health coalitions, the Center has made the video available to the media and the public by posting it on the Center for Alcohol Policy's Web site at https://www.centerforalcoholpolicy.org/.
The Center for Alcohol Policy will be honored at the 32nd Annual Salute to Association Excellence, to be held February 16, 2011, at the Capital Hilton in Washington, D.C. The winning entries will be on display at the event. The winners are also featured in the January issue of Association TRENDS and online.
###
The Center for Alcohol Policy is a 501 c (3) organization whose mission is to educate policy makers, regulators and the public about alcohol, its uniqueness and regulation. By conducting sound and scientific-based research and implementing initiatives that will maintain the appropriate state-based regulation of alcohol, the Center promotes safe and responsible consumption, fights underage drinking and drunk driving and informs key entities about the effects of alcohol consumption. For more information, visit www.centerforalcoholpolicy.org.