Law Symposium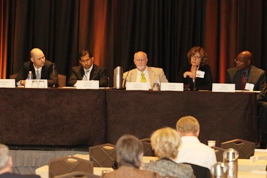 The Center for Alcohol Policy (CAP) Sixth Annual Alcohol Law Symposium was held October 23-25, 2013, at the Grand Hyatt Washington in Washington, D.C.
This annual event brings together a wide range of experts in the field of alcohol law – including attorneys, current and former alcohol regulators, academic thought leaders, public health advocates and other experts – to discuss and debate current alcohol laws and challenges.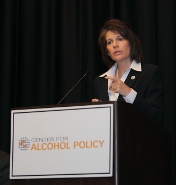 Nevada Attorney General Catherine Cortez Masto delivered a keynote address on the role state attorneys general play in regulatory, law enforcement and public health functions. She discussed the state's history of alcohol regulation since its vote to ratify the 21st Amendment and emphasized her office's involvement in balancing support for local businesses that contribute to the economy while promoting alcohol's safe and responsible use and engaging in educational outreach.
Read highlights from day one and day two of the symposium.
The CAP works with state continuing legal education (CLE) boards to provide attending attorneys with CLE credits. To date, the following states have approved CLE accreditation for the 2013 Alcohol Law Symposium: Alabama, Arkansas, Colorado, Delaware, Georgia, Illinois, Indiana, Iowa, Kansas, Kentucky, Maine, Minnesota, Missouri, Nevada, New Mexico, North Carolina, North Dakota, Ohio, Oklahoma, Oregon, Pennsylvania, Tennessee, Texas, Utah, Vermont, West Virginia and Wyoming.
In 2012, every attendee was able to secure CLE credits, and more than 40 states approved CLE accreditation to participants of the Alcohol Law Symposium.
For more information about the Symposium or other CAP events and programs, contact the Center for Alcohol Policy at (703) 519-3090 or info@centerforalcoholpolicy.org.